Luxury Log Home for sale in California
SOLD:
The most beautiful log home in all of California!
Considering Offers in Excess of $10,900,000 USD
Inquiries: Jim Callahan at 805.456.9147 or Jim@TheEpsteinPartners.com
For more information see the listing on the Santa Barbara Real Estate page.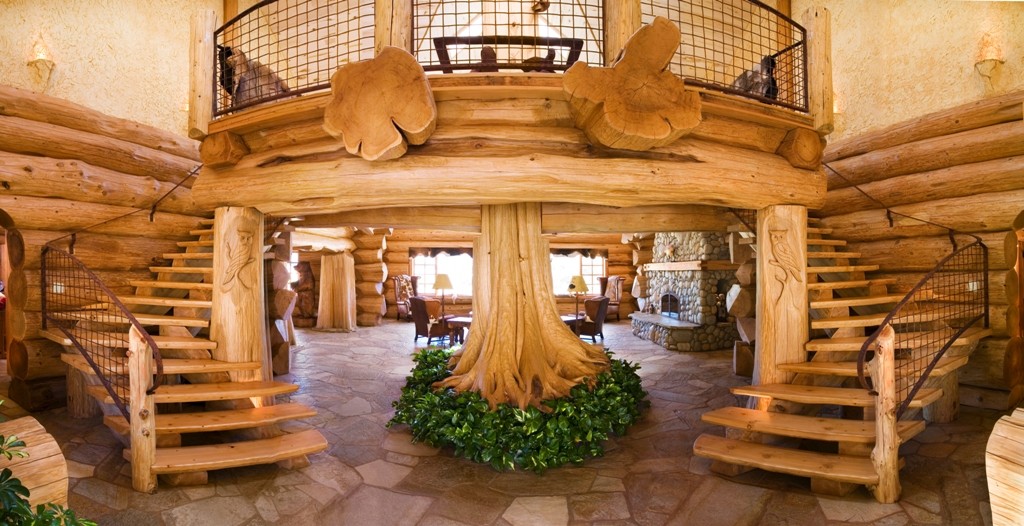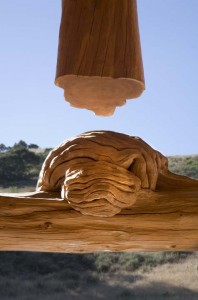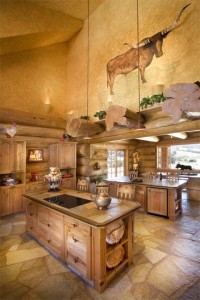 Luxury log home for sale in California: The Pioneer Ranch main house is a breathtaking 7,400 square foot Western Red Cedar log home, custom built by Pioneer Log Homes of British Columbia for the founder of the company. This outstanding property overlooks Nojoqui Falls, a large vineyard and a working cattle ranch. Additionally, it is in close proximity to beaches, world class wineries, farm-to-table restaurants, a regional airport and much more. Move in ready, this property avoids the need and time required for permits and construction. The main house offers two bedrooms, three and a half bathrooms, a two car garage, a one bedroom caretaker suite (located above the garage), and much more. These incredible, massive, handcrafted Western Red Cedar logs and attention to detail have earned it the title of "Most Beautiful Log Home in the State of California."
Custom character log and stone work, including carvings and burls, flags and wildlife, decorate this timeless home. Entertaining and relaxing are made easy in the spacious front room with custom stone fireplace and timber mantle, along with the custom stone and outdoor log kitchen on the back patio. The master bathroom of the Pioneer Ranch house is a masterpiece in its own right; a Victorian, double slipper, claw foot tub accompanies a separate full-tiled shower, while exquisite tile work and plaster walls give a Santa Barbra flavour to this room. Much of the wood used in the homes décor is recycled Douglas Fir, including the second level flooring and the kitchen cabinets. This home was designed with openness and family in mind, fewer large rooms rather than many smaller spaces create a relaxing, timeless, and peaceful atmosphere that is still perfect for entertaining and family gatherings.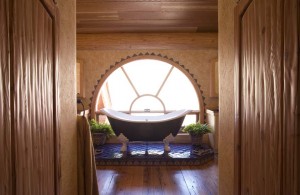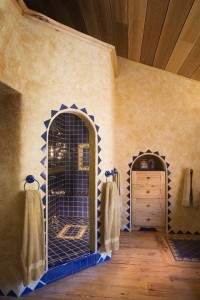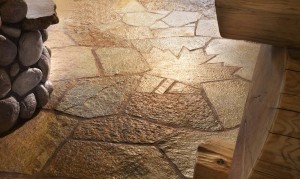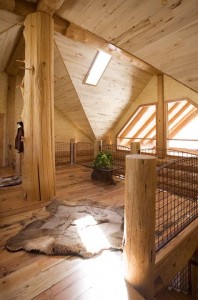 In addition to the main house, the 360 acre property boasts a 994 square foot guest cabin and a 320 square foot cowboy cabin, along with a 1,000 square foot wine cellar, and a 1,920 square foot log barn. As a bonus the property is also zoned for an additional residence. All outbuildings are handcrafted by Pioneer Log Homes of British Columbia – world-renowned builder of the finest log homes on Earth, and the largest log home in North America. All building roofs are clad with architectural rusted metal roofing that gives it the "home forever" feeling. Further, the property showcases a 10 acre organic field as well as a separate vineyard growing Pinot Noir, Syrah and Grenache grapes. The entrance to the Pioneer Ranch exhibits a stunning log entryway and is located on Highway 101 south of Buellton, in Gaviota, California – a convenient 25 minutes north of the Santa Barbara airport – and has its own ingress/egress to Highway 101 creating an easy access to this very private, stunning home and property that is surrounded by large undeveloped ranches, including the 20,000 acre Las Cruces Ranch on the west boundary. The sheer beauty of this home coupled with the masterful construction and perfect California location is both unmatched and unbeatable.
This home has been featured on Home and Garden Television (HGTV), as well as in
Log Home Living Magazine
and many other publications.
Some comments on this stunning home:
Beautiful!
Awesome!
Incredible!
There are no words to describe it!
Unbelievable! I've never seen anything like it!
Absolutely breath taking!
It's a work of art!