Fibre & Materials
Fibre and Materials
Pioneer Log Homes of British Columbia uses one of the most majestic trees in nature to build custom log homes: the Western Red Cedar. It has been revered for centuries by the aboriginal peoples of the west coast for its legendary resistance to rot and insects. The Western Red Cedar is extremely durable even in the most severe climate conditions and is an amazing insulator. All of the timber we use in our custom log homes is harvested and selected by Pioneer crews in the coastal forests of B.C., Canada.
Mother Nature was certainly having a good day when she created the Western Red Cedar.
Pioneer has approximately 300 loads of Western Red Cedar in inventory at any time. Our Western Red Cedar has quality, beauty and remarkable durability that is unmatched by any other log species. Our seasoned logs ensure the longevity and stability of every log home structure we build. British Columbia's wood and wood construction products are thoroughly inspected and graded in order to meet the most demanding international quality control systems.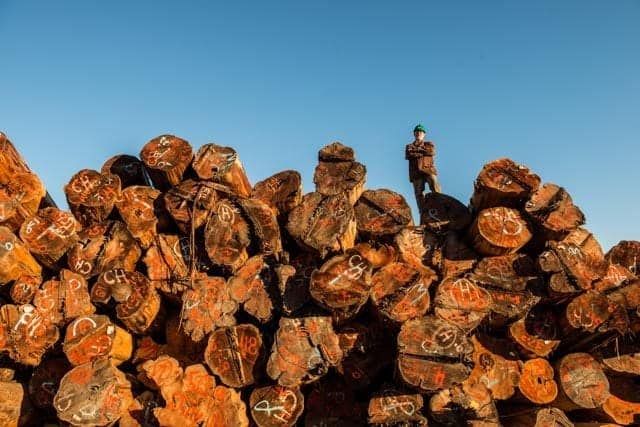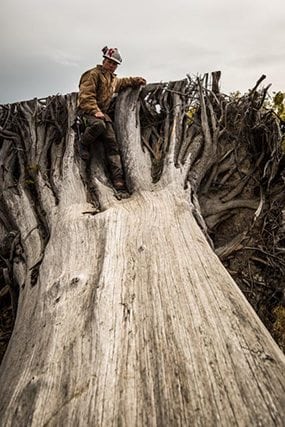 There is more Western Red Cedar curing in our Pioneer yards in Williams Lake than all the other log builders in British Columbia combined. Our impressive log inventory ensures that we have the type of log needed to fit the specifications of your new custom home. Additionally, you are able to personally hand pick feature posts or logs for a specific areas of your new family log home. This is not possible anywhere else in our industry.
At Pioneer Log Homes of British Columbia, we stand beside our choice in seasoned fibre. We never use green or fresh cut logs. When we are building the "Finest Log Homes on Earth", the wood quality has to be the best in the world. That is why we ensure every single log we use on your new home is absolutely stunning with unmatched quality.