Pioneer Log Homes of BC handcrafts each world class cedar log home to perfection to ensure your new home withstands the test of time. With only the highest quality in mind, we carefully construct our log homes with distinct artistry and personality. Each and every log used to build our custom Pioneer Log Home is seasoned and air dried to help control shrinking and checking. This process helps us create custom log homes that need very little adjustment and maintenance.
Our logs are hand-peeled at our building sites using a drawknife, all of the corner notches are hand-polished, and all of the logs are dimensioned and fitted precisely for the best performance and character.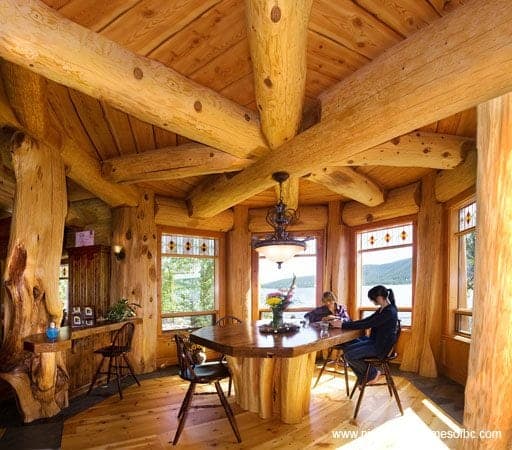 The logs or timbers and roof system are then placed strategically into your custom design at our log building facilities. The joinery is a true work of art, finished with an age-old European process.
The preliminary construction of Pioneer Log Homes' log shell package is performed on one of the company sites in Williams Lake, British Columbia, Canada. For additional effect, the log ends are carved in Alaskan finish, smooth-faced Yukon finish, or gentle scrolled timber arches. Once every detail is honed to perfection and the log-only structure is complete, each log is tagged, numbered, and transported directly to your building site. Every log is then reassembled along with the finishing touches to re-erect your dream home.
Every exacting detail comes together perfectly in the end. Your custom luxury log home will feel like it has always belonged exactly where it stands. You new home will boldly face time, withstand all of the elements and warmly greet your family for generations to come.
We build our wood structures to withstand high annual rainfall, snowfall, earthquakes, severe winds and extreme climates. Additionally, wood performs better in earthquakes than other building materials such as concrete and steel. Wood also has excellent acoustic capabilities that absorb sound, helping to reduce noise and echoing in your new home.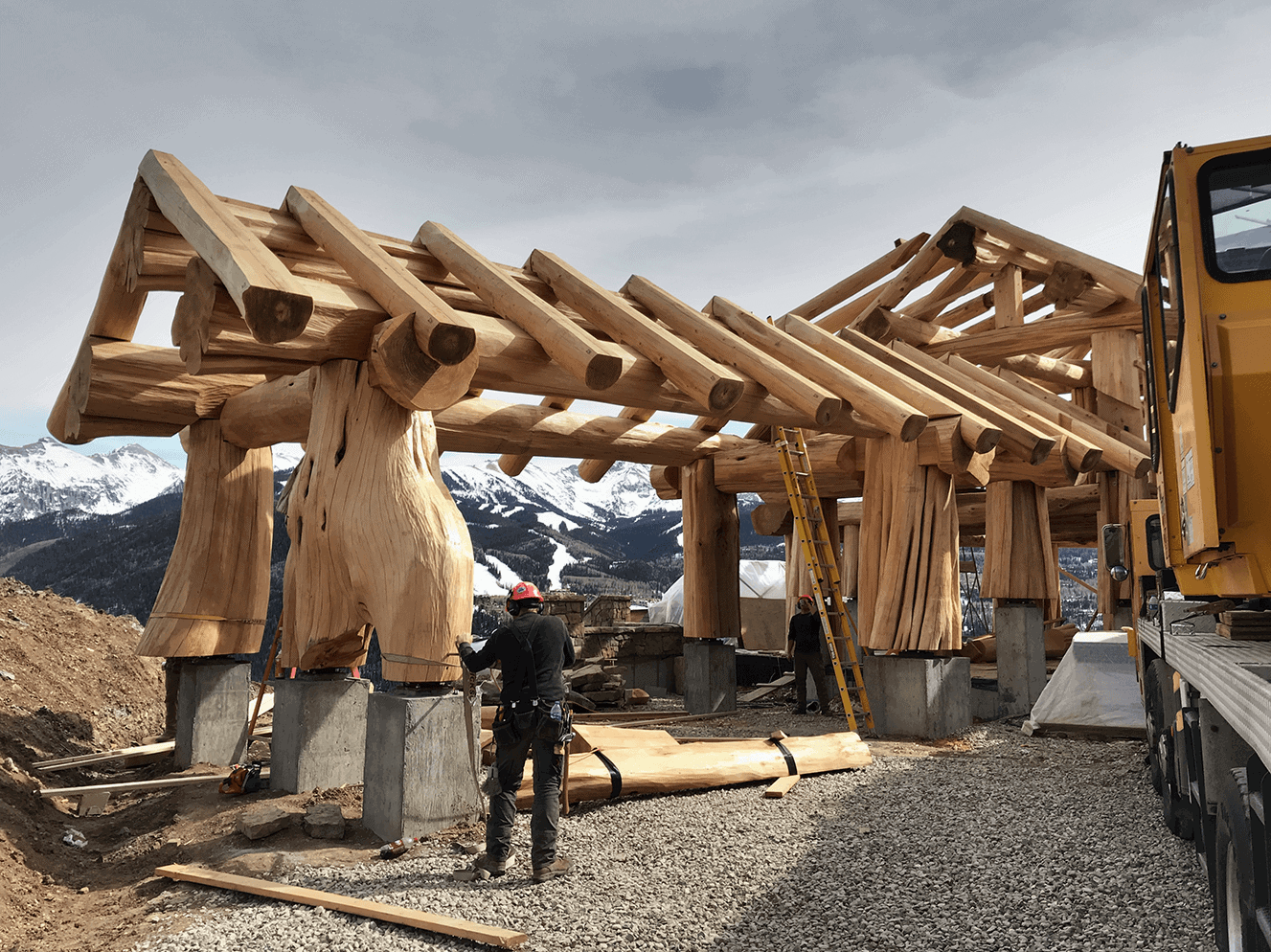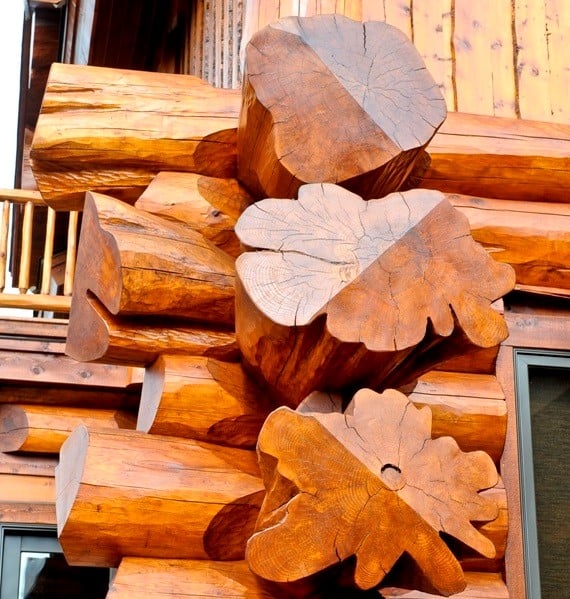 Our structures are specifically designed and engineered for each individual area they are constructed in. We factor in exposures to sunlight, severe winds, climate change, and earthquakes. Some locations we've built on in California, Montana and Wyoming are situated on very active faults and seismic lines.  Some of Pioneer's structures are engineered to a seismic 4B rating, which is extreme in every manner. Our structures are engineered with specific hold downs and structural mechanisms that fasten the log shell package and roof structures to the foundation.  Pioneer Log Homes of BC takes pride in the fact that we can satisfy engineers and inspectors to this degree anywhere in the world.
Insect and termite problems of the past are virtually eliminated with current construction techniques and practices such as suppression barriers, site management, and treated wood.  Pioneer Log Homes has shipped world class log homes to Australia and the Southern United States where damaging insects are prevalent. The way our structures are engineered basically eliminates the problems that have occurred in the past in North American wood frame construction including log and timber homes.
Over the past four decades of building custom log and timber structures, some of the homes we build have really been put to the test. Read the testimonial from one of our customers.
My family and I would like to extend our sincerest thanks for looking out for our family's best interests while engineering, designing and building our home. California experienced a devastating 6.3 earthquake. The epicentre was less than 7 miles from our ranch… we were at ground "0". I feared the worst... We ran inside to see the damage and were shocked to see that only one drinking glass had fallen! I inspected the entire log structure including the foundation. Absolutely no damage !...I knew I was buying a quality product, but didn't appreciate how good the home really was until after the earthquake hit.

We again thank you for looking out for our family's best interests. We sleep very well in our Pioneer log home.
Wood also performs great in severe hurricane force winds, with special techniques and structural systems that can withstand winds up to 180 kilometres per hour or 112 miles per hour. Pioneer Log Homes of BC has constructed some projects in areas that are considered high severe wind areas. See the below testimonial.
Just wanted to let you know that this ole log home you had built for us just withstood two tornadoes and one hit of straight line winds that topped 90 mph (144 kph)…your house performed beautifully…
– Wood structures are engineered to provide the same safety and reliability as other building materials such as steel and concrete. Independent studies show heavy timber resists fire better than steel which can weaken and collapse quickly when exposed to intense heat. In many respects, heavy timber construction is compared to and equivalent to reinforced concrete. With most fires, no matter what the building materials used in the construction are, proof shows the fire dangers are attributed to the contents inside the home or structure.
Again our structures are scrutinized by building inspectors, engineers and planners. Steps are taken to ensure firewalls and breaks are placed as per the design criteria. As a matter of fact, an 18 inch log wall provides an excellent mass between rooms for containment of fire and heat. Massive log and timber beams provide excellent safety allowing ample time for people to vacate if there is a fire. In the event of a fire, log and timber beams can be cleaned and the char removed to the natural wood beneath. This has been proven not only in Pioneer houses, but also on ancient log and timber construction worldwide.
My wife and I would like to send you this as a testimonial to our beautiful Pioneer Log Home... In August... you delivered our new log residence, it was the 5th log structure we had purchased from Pioneer Log Homes of British Columbia since 1994. All of these buildings were very large in size for commercial use in our family's business. Our personal home came in 9 containers from Canada. We were interested in having an eco friendly home with as many natural materials as possible. Even the insulation is made from wood fibre in the roof system. On December 30th … I woke to the smell of smoke. I woke my father-in-law up and we managed to put the fire out with extinguishers and fire equipment…. Our…architect… later said that if the home was constructed from any other material other than logs, we probably would have perished in the fire. The heat temperature at the roof ridge was later measured at 700º Celsius. The windows were twin sealed glass but the fire was so hot that the inner panes of glass exploded with the extreme heat. Kitchen appliances and kitchen equipment were melted from the heat. The log ridges, log rafters and some log walls had 8mm (3/8") of burned wood and charcoal on them. The interior frame walls, partitions and interior doors were burned and smoke damaged and some were completely destroyed. The clean up by the insurance company consisted of spraying a latex eco friendly compound onto the logs; it even penetrated the cracks in the logs. It was sprayed on the log walls, log ridges, log purlins and log rafters. The latex was then peeled off, removing the charcoaled wood and destroyed fibre. Three logs were so badly burned they had to be slicked and peeled. The miracle was the wood and remaining logs were still structurally stable and aesthetically pleasing. The overall damage to our home was in excess of 500,000.00 € ($750,000.00 CAD) My entire family is very thankful that our home was a Pioneer Log Home. We believe Pioneer's incredible construction and large logs saved my family from being hurt or killed in the fire. Today our log home looks as beautiful as it did before the fire that December night! Thank you Pioneer,