Caledonian Cabins – Invergarry, UK
Caledonian Cabins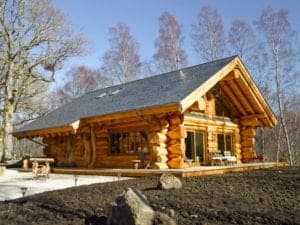 Do you dream of escaping to a remote hideaway, far away from the stresses of everyday life? We are delighted to bring you a beautiful Log Cabin, available now for bookings.
Nestled amongst the spectacular mountains, magical moorland and ancient lochs, you'll find yourself immersed in the best rugged beauty and wild landscapes that the Scottish Highlands have to offer. Loch Garry is a place of peaceful contemplation and natural splendour. Just over one hour's drive from Inverness airport, you will find yourself in a location where you can truly unwind and enjoy life's simple pleasures. Our snug log cabin offers luxury in the most tranquil setting.
This exclusive retreat is a log cabin in the most authentic sense. It has been built with giant Western Red Cedar logs, handcrafted in Canada by Pioneer Log Homes of BC using traditional methods. It sits amongst several acres of secluded woodland, just 50 metres from the shore of Loch Garry and overlooking a babbling burn (small river). Upstream is a wonderful Sir Thomas Telford bridge, giving access to yet more picturesque woodland and shoreline.
The cabin itself offers sumptuous luxury – sympathetically styled, with no detail forgotten. Comfortable beds, cosy places to snuggle up and relax, plus an invitingly warm Hot Tub outside on the deck will make your stay complete.
We're sure that you will love every minute of your time here – leaving relaxed, refreshed and looking forward to when you can escape again!