Moose Ridge Cabin – Breckenridge, CO
Moose Ridge Cabin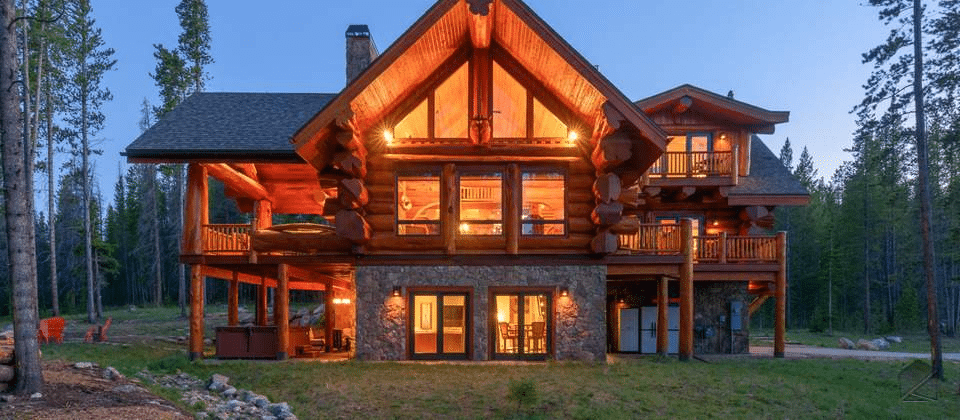 Moose Ridge Cabin is in a world of its own in every way, while being just a short drive to downtown Breckenridge. A long driveway takes you through sky-piercing pine trees, transporting you to a tranquil Breckenridge luxury cabin, built by Pioneer Log Home's of BC, with four bedrooms, sprawling outdoor decks, and a traditional interior design that reminds you at every turn that you're in the beautiful Rocky Mountains. A hot tub sits at the base of the trees under a covered patio, and an outdoor fire pit will keep your whole group warm on chilly mountain nights. It's the ultimate way to experience one of Colorado's premier vacation destinations.
Perched on a subtle hill in the middle of a clearing of pines, the first thing you'll notice is the traditional log cabin architecture, and the wrap-around porch that nearly surrounds the home. As soon as you step through the entryway, mountain decor, alpine paintings, and huge wooden logs greet you. Continue into the living area, located on the second-floor main level, to get a true feel for the home's grandeur. A lavish leather couch and chairs surround a huge stone fireplace, complete with a wood carving of a mounted moose and antler lamps. A two-story wall of windows provides full views of the towering pines outside, and the chandeliers that hang overhead give this room a true ski lodge feel. There's also a grand piano in the corner, adding to its luxury appeal.
There's so much to discover during a stay at Moose Ridge Cabin. Walk the grounds through the swishing pines, light a fire in the fire pit, rejuvenate in the hot tub, or take the short drive into historic downtown Breckenridge. It all adds up to create an unparalleled Rocky Mountain vacation you'll remember forever.