California's Hidden Gem – Mt. Shasta Log Home
$5,678,000.00 USD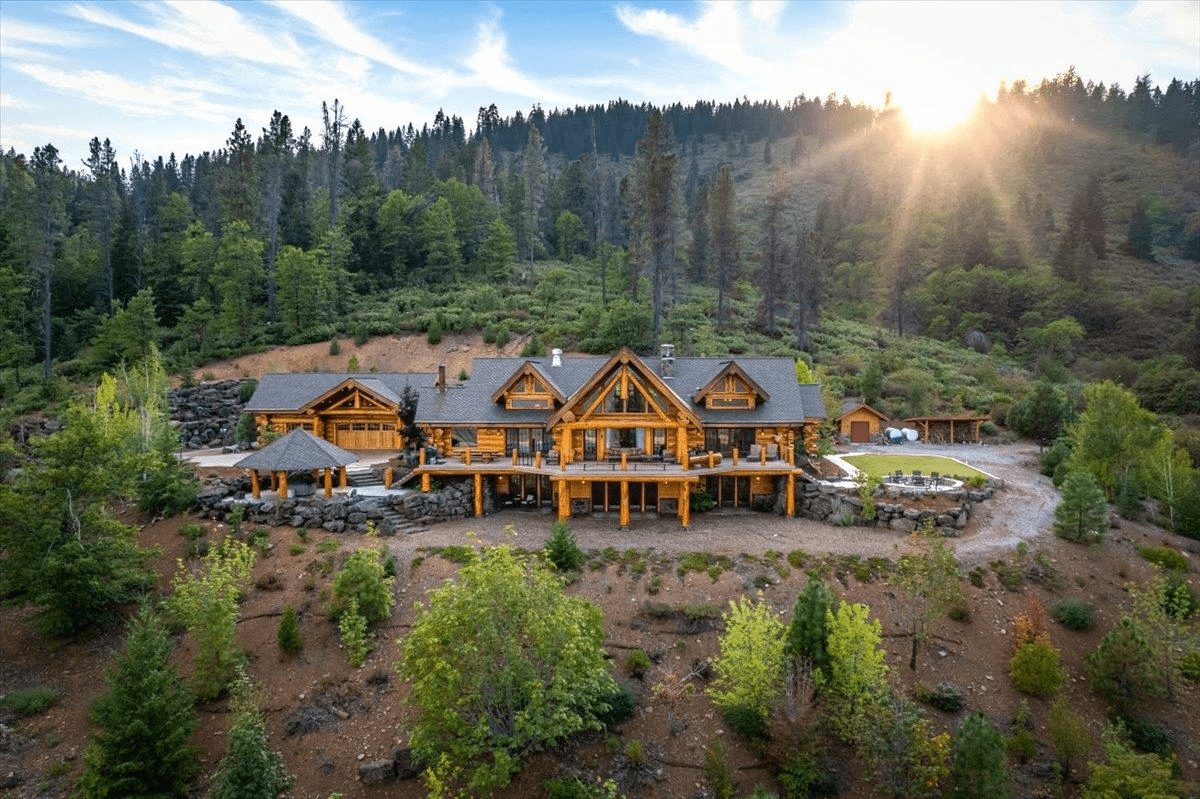 Perched at 4,000 ft. elevation in the midst of pines, oaks, and dogwoods, encompassing 55 acres with commanding views of majestic Mt. Shasta and picturesque Lake Siskiyou, you will discover Sentinel Retreat.
Located just 10 minutes from downtown Mt. Shasta, this remarkable estate presents an exceptional opportunity to own a custom-built luxury Pioneer Log Home. Boasting an expansive 7,600 square feet of living space and 1,000 square feet of guest quarters above the garage, coupled with a 1,700 square foot outdoor deck, this log home offers a harmonious blend of rustic elegance and mountain casual luxury. With three levels, four spacious bedrooms, three full bathrooms, and one-half bath, there is ample room to accommodate family, friends, and guests. There is a great deal of craftsmanship to be seen throughout the home. Whether it's the meticulously hand-carved mighty eagle above the front door or the wooden bears climbing the 20-foot "feature tree" that greets you as you enter Sentinel Retreat, no details are spared.
No matter the season, right outside your front door or just a short drive away, outdoor recreation abounds – hiking, biking, climbing, swimming, canoeing, and kayaking. Try your luck casting your rod in the world-class Upper Sacramento or McCloud rivers or in the many surrounding mountain lakes. For the golf pros, you'll have plenty of options to work on your long and short game with nearby Mount Shasta Resort's 18-hole course and an abundance of golf courses in McCloud, Lake Shastina, Weed, and Fall River Mills. In the winter months, you can snowmobile or carve up the mountainside skiing/snowboarding with Mt. Shasta Board and Ski Park and Resort being only a quick 20-minute drive away.
After a full day of outdoor recreation, retreat to the 1,700-square-foot deck to enjoy your favorite cocktail or glass of wine while BBQing and watching the sunset. When the sun goes down, head to the outdoor firepit only steps away from the deck to roast the perfect s'more, share campfire stories, and stargaze. Or perhaps you prefer to wind down the night by soothing your body by soaking in the hot tub while listening to the abundant wildlife come alive at night.
Whether you're yearning for a spacious private getaway or an entertainer's delight, Sentinel Retreat provides the perfect setting to create cherished memories for years to come.
Realtor Contact:
Todd Renfrew
Phone: (707) 455-4444
Email: todd@caoutdoorproperties.com
Website: https://www.californiaoutdoorproperties.com/listing/sentinel-retreat