Christmas is one of our favorite times of year here at Pioneer Log Homes. We relish the opportunity to spend a little downtime with our families and prepare for the much anticipated Timber Kings premier on January 3rd. In the spirit of the Christmas season, we're sharing our holiday traditions with you!
"I talk with my family via Skype on Christmas morning, open the presents they've sent to me and enjoy a coffee and Bailey's. My roommate and I go out Christmas tree hunting each year and decorate our tree to keep the spirit alive in our home!" – Jodi Taylor, Human Resources
"I've started a new tradition, flying home to be with my family in Nova Scotia each Christmas." – Briana Rogers, Design
"Turkey, turkey and more turkey." – Roy Keats, Design
"Each year we read 'The Night Before Christmas' on Christmas Eve. We spend Christmas day opening gifts, playing pond hockey, doing puzzles and drinking hot buttered rum! We open our presents with a glass of egg nog and everyone gets a Christmas orange in their stocking." – Amanda Fuller, Marketing & Sales
Peter Arnold wanted to share with you his favourite Christmas Ornaments: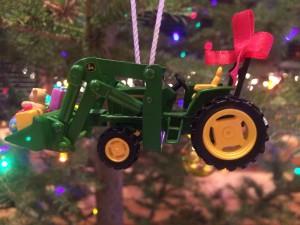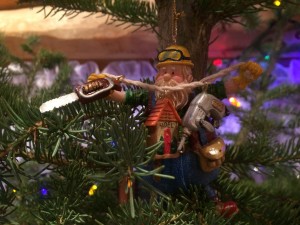 "I still partake in some German Christmas traditions. I have a wreath that holds four candles, we light one for each week of Advent. On December 6th, Saint Nicholas Day, the children put a pair of boots outside the front door and Saint Nicholas puts baking and toys in the boots for the good children, and a stick in the boots for naughty children! We exchange our Christmas gifts on December 24th and on December 25th we have a large lunch with roast goose, red cabbage and potato dumplings called 'kolesse'." – Dina Stephenson, Furniture & Carving Sales
"We always spend Christmas Eve at my mothers. In the evening we open some gifts with her, have dinner and play games. My mom always likes to read the Christmas story of baby Jesus. Then on Christmas day we open gifts in the morning and have a huge breakfast. Our home is usually full of friends and family. We then spend the day skating at the neighbour's rink, playing hockey of course because it is the Canadian thing to do, and sledding. We play games and have lots family time. We have a big Christmas dinner with friends and family. In the Roorda house Christmas is full of family, friends and food. My favorite time of the year." – Joel Roorda, Master Builder
From all of us at Pioneer Log Homes of BC, we hope you have a happy and healthy Christmas season! Merry Christmas!