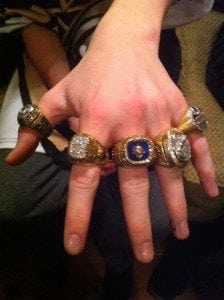 NHL Alumni games are all about nostalgia. Players share stories and fans share memories. The kids in attendance get to revel in the celebrity of it all while the adults amongst them relive their youth.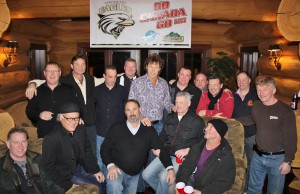 Pioneer Log Homes of BC recently sponsored an NHL Alumni game in St.John's Newfoundland. Ken Auchinleck, our distributor there and an avid hockey fan, was approached for this event and couldn't turn it down. As host, Ken got to drop the puck to get the game started. The Legends, it seems, hadn't missed a beat and were still skating with the finesse of their younger NHL years. Theo Fleury, Marty McSorely, Ron Duguay, Chris Nilan, Kenny Linseman, Mike Krushelnyski, and Bob Sweeney were all skating for the Legends amongst others.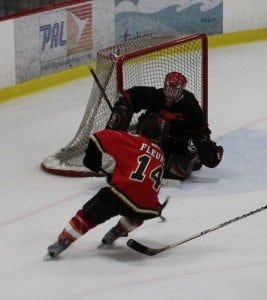 The final score was 11-6 for the Legends with the highlight reel including a goal by Theo Fleury to prove he still has the skills that made him one of the best in the NHL. He cut across the front of the net and flipped the puck over the defenceman's head and before the puck hit the ice, he whacked it out of mid-air and scored on Darrel Williams' five-hole.
Check out these video clips for a few key moments, including:
The game was only the start of the fun-filled day. The after party continued at Ken and Janice's own Pioneer Log Home where the players, fans, and players of the Northeast Eagles Bantam B team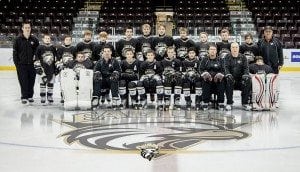 mixed and mingled and took in their surroundings. Fantastic feedback was received from the Legends at the after party. John Horrigan said, "Spectacular architecture, the front room is larger than my entire condo!". Bob Sweeney said, "The visit to the log home really capped off another great cultural experience for me in Canada". And, Ron Duguay said, "The reception was one of the more enjoyable parts of the trip. It's always nice when you can luck into a social that combines a nice, relaxing, homey feeling…with luxury".
Thank you Ken and Janice for hosting a wonderful event!