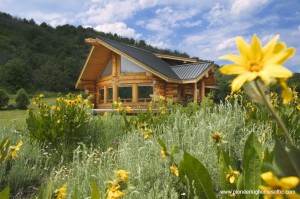 With living expenses as high as ever, individuals and families are faced with the continual challenge of finding ways to cut costs, and increase their "nest egg." We all work hard throughout our lives so that we can enjoy our retirement years. In addition, those with children hope they can save enough to provide their son or daughter with opportunities to jumpstart the next phase of their life. But how can you save enough to accomplish your goals?
One way to significantly reduce your living expenses is to jump aboard the "tiny home movement." As of late, tiny homes, such as a log cabin home have gained significant steam in the real estate market thanks the potential savings they can provide. An article from the Huffington Post examined how there is a wide demographical range of people looking to downsize the dimensions of their home, which is contrary to the perception that only older homeowners are looking to do so. So what exactly are the tangible advantages of moving into a smaller home?
Those that live in smaller homes tend to fully own it.
On average, smaller homeowners tend to have more money in their savings account when compared to traditional homeowners, and they tend to have less credit card debt.
Many smaller homeowners are not burdened by expensive mortgage payments.
Smaller homeowners have reduced monthly expenses, including lower energy bills and maintenance expenses.
Log cabins are one of the best ways to build a new dream home that does not cost a small fortune. Keep in mind, that prospective log cabin owners are not relegated to "tiny homes." As evidenced by the homes in our gallery, we can build log cabins of any size. Regardless of the size of your log cabin home, you will enjoy a series of savings that traditional homeowners are not afforded. To learn more about the advantages of living in a smaller home, please contact us at your convenience.
Source used: https://www.huffingtonpost.com/2013/09/04/tiny-home-infographic-mortage_n_3867269.html#slide=2375988